If you steal a car, you have two clear choices: stop and jump out, or zoom off at top speed and hope for the best.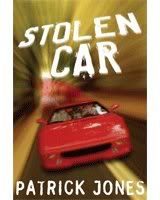 Such is the story of fifteen-year-old Danielle in Patrick Jones's
STOLEN CAR
. With an absent dad, well-meaning but clueless mom, and her mom's abusive, live-in flavor-of-the-season, Danielle longs for the day she can leave this trashy trailer park behind, yet wonders at the same time if this will ever be possible. Her buddy Evan's obvious adoration annoys her, and she's baffled by her BFF Ashley's cool disdain for her own caring parents and luxurious lifestyle.
Enter the older, enigmatic, totally hot Reid, Danielle's former-but-not-forgotten crush. With his own absent parents, sleazy friends, unnerving mood swings, wild parties, and mysterious sources of income, Reid stares into Danielle's eyes in a way no one's ever looked at her before. He says the things she's waited her whole life to hear, and treats her like the most beautiful, desirable girl on planet Earth. Life with Reid, though maddeningly unpredictable, fills her with confidence and a dangerous sense of freedom. For the first time ever, Danielle knows she's "special" and she's determined to keep that feeling alive—but at what cost?
Should she jump out? Or should she step on the gas?
Either way, Danielle's life will change. An absolutely riveting fifth novel by Patrick Jones, author of
Nailed, Cheated, Things Change
, a YALSA Quick Pick for Reluctant Readers, and
Chasing Tail Lights,
(my absolute favorite!)
Visit
PATRICK JONES'S WEBSITE