The Jacob Javits Center, NYC:
View of the main lobby from the upper level: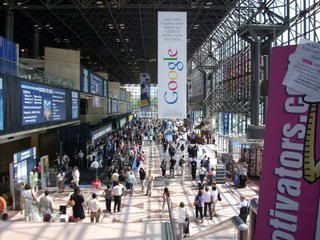 Friday morning I met up with Jill and a few other Bloomsbury chicks--
--for Childrens Authors breakfast. Speakers included Jacqueline Wilson (CANDYFLOSS) Mo Willems (KNUFFELBUNNY) and the amazing LIBBA BRAY who truly deserves her own sitcom.
Later, I stopped at the
Bloomsbury
booth for a quick pic (yes, yes, that's my book on the wall!):
Not only did I get to meet fellow 2k7-ers Paula Chase, Sarah Beth Durst, Tiffany Trent, and Rose Kent--but I also ran into
Richie Partington
of
Richie's Picks
who gave me my FIRST (wonderful!) review, and CBWI's
Alice Pope
who not only was kind enough to mention me
ON HER BLOG
...but I must tell you, Alice once critiqued the first few pages of
BEFORE/AFTER
years
ago at the Columbus Writers Conference!
With over 30,000 people over 3 days and minimal air conditioning, when I wasn't stalking authors and celebrities for photos, I hung around outside and gazed at the Empire State Building in the distance--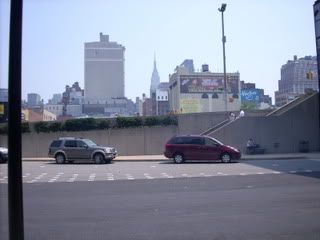 --guzzled iced coffee, saw some very interesting people--
--and fell absolutely in LOVE with this car: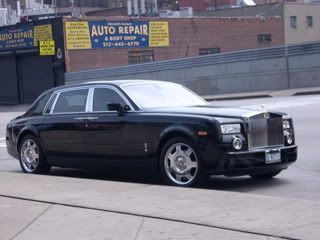 Speaking of cars, this story just PROVES TO YOU ALL what a hopeless midwestern h-i-c-k I truly am:
OK. I was pretty damn proud of myself that I learned how to hail a cab. See, around "here" if you need a cab, duh, you pick up the phone and they send one to YOU. It magically appears in your driveway, or wherever. You don't have to risk life and limb chasing them down through the streets.
So there I am at the end of the BEA, loaded down with all my luggage, including 180 pounds of books and other freebies, and there's like FIFTY people waiting in line for a cab. As I'm standing there, melting in sweltering heat--not only am I exhausted, and desperately dehydrated because I grew weary of spending $3 for every bottle of water, but my feet are shredded from trudging to Times Square the night before in plastic sandals (don't ask)--and seriously wishing I could whip out a handy-dandy red-tipped collapsible white cane--some dude yells out: "ANYONE GOING TO LaGUARDIA?"
Nobody else in line moved. That should've clued me in.
I flag him down. He smiles. He speaks English, which should've been my
second
clue. He TAKES MY BAGS (wow!) and leads the way down the street--past, I note, several OTHER cabs waiting at the curb. Nope, not that one...nope, not that one...
Hmm, I think. So this is it. My luck finally ran out. I made it through 3 days in NYC without being mugged or murdered--and of course I left my pepper spray at home because, ya know, Homeland Security and all. I can't run away. He has my freaking BAGS.
Then I see it: a black Lincoln Town Car. I trip to a halt, the lightbulb exploding. Of
course!
How could I not have known? In NYC cabbies don't seek YOU out! Mentally, I: A. wonder how to gracefully get out of this, and B. try to calculate my remaining funds...
And then I think: Screw it.
Limo service drivers, I found out, drive as crazily as cabbies--but at least in a Town Car you can't feel the jolts of all the curbs you hit, or hear the screams of the pedestrians as they hurl themselves out of your way.
50 miles an hours through narrow, jam-packed, one-way streets till we hit the freeway. But the seats were leather, not cracked, suspiciously stained plastic. And the interior was air-conditioned to the point of frigid--no little fan in the back seat blowing toxic fumes up my nostrils.
I looked like hell. I probably smelled even worse. But I rode to the airport in luxury, feeling like a (very broke) celebrity!