This has been a great reading week for me.
Carrie Jones's
GIRL, HERO
--how
did
I miss this one when it first came out??? Absolutely beautiful:
April Henry's
SHOCK POINT
and
TORCHED
--both YA thrillers and definitely page turners: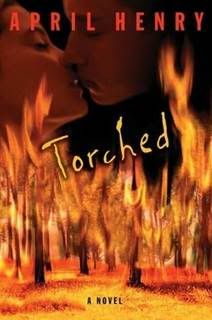 Carol Lynch Williams's
THE CHOSEN ONE
--mysteriously sent to me in the mail and one I absolutely could
not
put down (I read it in several hours):
Susan Vaught's
MY FIG FAT MANIFESTO
which I'm reading right now--
not
your stereotypical fat-girl-wallflower-with-no-self-esteem character; this fat girl
rocks!
Why am I reading instead of writing? Especially since I, as a rule, try never to read YA when I'm working on a novel?
Oh, gimme a break. :)