The sun is out, my seratonin levels have risen, and I'm on one-big-honking-editing roll. Is it possible to become
addicted
to this?
"Hi, I'm Jen. I'm an editolic."
"HI, JEN!!!"
Today is officially
Positive Energy Day
for the A-Team. The reason behind this is that we have a tendency to bitch. No, not a tendency: a compulsion. This is what happens when you take a bunch of pre-peri-and-post menopausal chicks and throw them together under stressful circumstances. Today's ground rules:
1. No bitching about anything. Period. Co-workers. Patients. The ratty-looking environment. The ninety degree humidity. N-o-t-h-i-n-g!
2. Um, if you MUST say something negative, it must be followed up by something positive. AND it must not involve any obscenities.
Beth and I attended the
IRISH CULTURAL FESTIVAL
last night and fell in love with these delightful Irish faces:
Wheaton Terrier
Irish Setter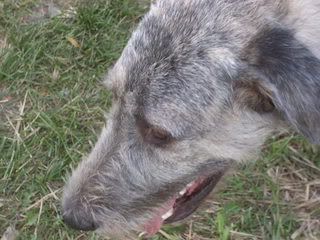 Irish Wolfhound
The setter was there to publicize a local Irish Setter rescue team. Oh. My. God. I
soooooo
wanted to take this beautiful old baby home with me: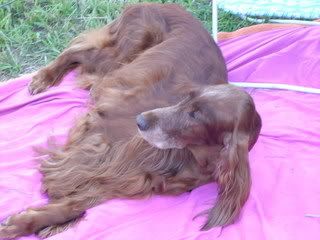 Too bad Max would kill him.
BTW, Beth got bit a Persian cat at work yesterday. Thank GOD for (leftover) antiobiotics!