*Big Sigh of Relief*
Back to normal!
Friday 5:
1. Authorpalooza! Here I got to:
See fellow 2k7er Marlane Kennedy, author of
ME AND THE PUMPKIN QUEEN
:
Sign books, talk to teachers, librarians, and fans, and give a short reading: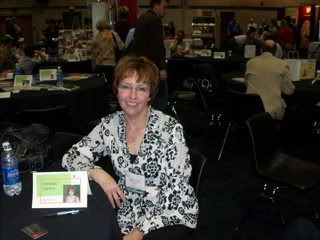 And yes, yes, YES! Meet John Green!
A perfect ending!
I also:
2. I sent the revisions off to my agent.
3. Actaully sat down and wrote out a (sucky) synopsis for a sequel.
4. Went back to work ('nuff said about
that!
I've officially reached my limit of body function posts).
5. Wrote 8,000 words in one day.
I am utterly blogged out. See you guys next week and have a great weekend. And for all of you out there in CA--PLEASE STAY SAFE! You are all in my prayers. xox