INTRODUCING: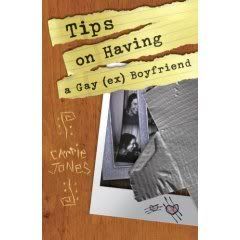 TIPS ON HAVING A GAY (EX) BOYFRIEND
by
Carrie Jones
: "It isn't every day that my high school boyfriend, Eastbrook High School's Harvest King, tells me he's gay. It's not every day that the Harvest Queen is dumped in the middle of a road with the stars watching the humiliation and the dogs barking because they want to come help tear my heart out and leave it on the cold gray ground. It isn't every day that my entire world falls apart. Belle believes that Dylan is her true love-maybe even her soulmate. Until one cold night when Dylan drops the ultimate bomb: he's gay. Where, Belle wonders, does that leave her? Should she have some­how been able to tell? Is every guy that she loves going to turn out to be gay? This beautifully-written debut explores what happens when you are suddenly forced to see someone in a different light, and what that can teach you about yourself."
BEAUTY SHOP FOR RENT
by
Laura Bowers
: "Abbey Garner has a plan: to earn a million dollars by the time she's thirty-five. Financial independence will allow her to break the cycle of unhappiness endured by the women in her family. Determined to fulfill her dream, Abbey works at Granny Po's struggling beauty shop, where the feisty Gray Widows go to primp, polish, perm . . . and, of course, gossip. There, among the hair dryers and perm rods--and with the help of a new friend--Abbey finds the courage to open her heart and take risks required for her to live life to its fullest."
CONGRATS TO BOTH OF YOU! xox
Carrie's Website
Laura's Website