CONGRATULATIONS
to
Sara Aronson
and the release of her YA novel
HEAD CASE
: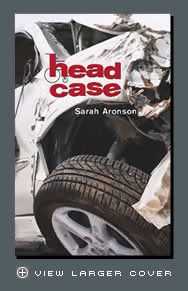 "Frank Marder is a head, paralyzed from the neck down, and it's his fault. He was drinking. He was driving. Now Frank can't walk, he can't move, he can't feel his skin. He needs someone to feed him, to wash him, to move his body. Now he must learn to deal with his lack of independence, his parents, his sister, his friends.
"Will he ever feel like a whole person?
"When you're a head, do you ever get to forgive yourself?
"But if you ask most of the people who post on www.quadkingonthenet, he hasn't been adequately punished. Two people are dead because of him. Frank should go to jail. Only "Anonymous" disagrees.
"A powerful and heartbreaking debut novel about a guy who had it all… until he drank that one last beer and got into the car. Head Case will make you consider how we judge each other. And how we can move beyond our mistakes—with honesty, compassion, and even humor."
And
MORE CONGRATS
to
Suzanne Selfors
and HER new release,
TO CATCH A MERMAID
:
From Amazon:
"Boom Broom doesn't think his life could get any worse. Ever since his mother was swept away by a twister, his family has gone crazy. They refuse to leave the house and Boom and his sister Mertyle are looked after by Halvor, the Viking descendant who rents the room over their garage.
"When Boom finds a baby mermaid who seems to grant unlimited wishes, he thinks his luck has turned around. That is, until his sister is hit by the curse of the merfolk. Now Boom and his best friend Winger must find a way to return the merbaby to its mother and save Mertyle before it is too late."
YAY, Sara and Suzanne! xox